HOW TO FIND THE RIGHT
IT CONSULTANT
The Ultimate Business Owner's Guide
For Finding a Professional, Competent, Honest, Considerate, On-Time,
Fairly Priced and Dependable Computer IT Consulting Firm.
By Michael C. Skomba, MCSE
Read this book and you'll discover:
The five types of technical support available, and the pros and cons of each.
5 critical facts you must know before moving to the cloud
How to avoid getting ripped off, disappointed and/or paying for substandard work.
12 warning signs that you hired the wrong computer consultant.
Viruses, worms, spyware and hackers: what you need to know to protect your company.
Everything you need to know about contracts, payment schedules and rate negotiations.
21 revealing questions you should ask any computer consultant before giving them access to your company's network.
Why you need to avoid "cheap" or "bargain" computer IT support.
How to turn technology into a competitive advantage instead of a drain on your time, money and resources.
Why your business needs to leverage managed services.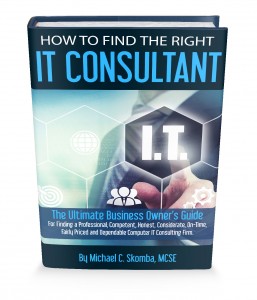 Fill out the form below to see if you are eligible to receive a free copy of this book!